Have you ever heard one of your straight friends say "I wish I was a lesbian. It would be so much easier!" Or "I'm so done with boys. I'm going to become a lesbian." If you haven't, it means you are that friend and you need to stop.
These statements are not only ridiculous but also illogical. Do you really think you can just become a lesbian if you want to? Do you think you can simply wake up one morning and be a lesbian? I hate to break it to you, but that isn't how it works. Not only are these sayings incorrect, but they are also rude and simply ignorant.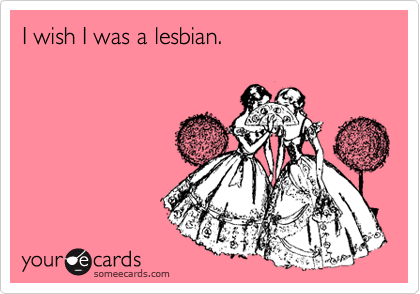 Wouldn't being a lesbian be easier? Graphic from someecards.com
I have one question for you. How is "becoming" a lesbian easier for you? Is it easier because of all the rejection and bullying you will receive? Or is easier because your parents could potentially kick you out or stop paying for you college?
Being gay isn't something to do when you're bored or when you're mad at your boyfriend. It is who some people are and they don't need you belittling their sexuality because your crush doesn't text you back.
Have you ever heard someone say "That must be so nice, being a lesbian and being hot. Boys can stare at you and hit on you and you can easily turn them down by saying you're a lesbian," because I have.
First of all, what? Being a lesbian, the last thing I want is some drooling frat boy hitting on me or staring at me.  
Second of all, have you met a college boy? Do you really think that by me saying I'm a lesbian would stop them? Many straight guys have no respect for us gay girls. They will either ask for a threesome or say they have the "cure" for being gay which I'm sure you can connect the dots to what the "cure" is.
Third of all, if you want to turn a boy down or tell him you're not interested, you don't have to use the excuse of being a lesbian. Simply tell them to go away. If they don't, go grab one of your boyfriends or walk away yourself. You don't need to objectify someone else's sexuality to get some gross boy away from you.
Being gay isn't some accessory for you to wear out one night so you can avoid being hit on. It isn't a fun game to play when you're mad at your boyfriend or some guy hurt your feelings.
Being gay is someone else's reality, it might not be yours, but guess what? The world doesn't revolve around you.